July Live Streaming Event
We are pleased to announce the Live Streaming event for 2022. This is the event where everyone can sit at home in their PJs and stream from the comfort of their own studio. There is no cost to stream or to join in the chat room and listen in. You can subscribe to our newsletter to keep up to date with all of the latest info and also find details below.
Event Dates
Friday July 29 – Sunday July 31
Schedule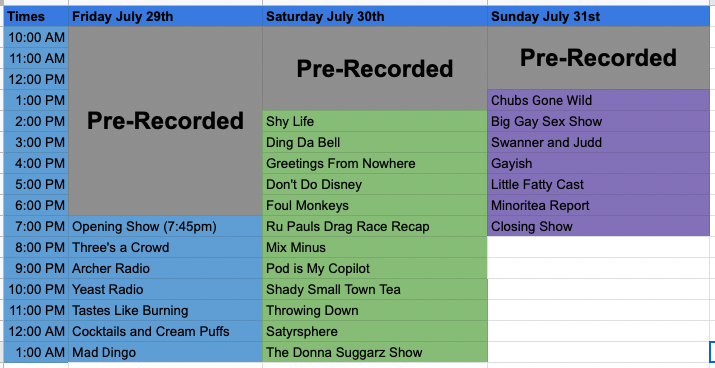 Promote the Event
In order to promote the event, please download the bumper below and play on your show.
| | |
| --- | --- |
| Opening Show | |
| Three's A Crowd | |
| ArcherRadio | |
| Yeast Radio | |
| Tastes Like Burning | |
| Mad Dingo Show | |
| Day 1 Late Night | |
| The Shy Life Podcast | |
| Ding da Bell | |
| Greetings From Nowhere | |
| Don't Do Disney | |
| Foul Monkeys | |
| Ru Paul's Drag Race Recap | |
| Mix Minus | |
| Pod Is My Copilot | |
| Shady Small Town Tea | |
| Throwing Down | |
| Donna Suggarz Show | |
| Day 2 Late Night | |
| Chubs Gone Wild | |
| Big Gay Sex Show | |
| Swanner & Judd | |
| Gayish | |
| Little Fatty Cast | |
| Minoritea Report | |
| Closing Show | |